Purchasing plugins and other software at Plugin Boutique has never been easier.
Since upgrading our checkout service, you can now purchase and access products on our website in the quickest and easiest way possible.
1. Head to our Homepage.
2. Once you have found the product item(s) that you would like to purchase, click ADD TO CART. The item(s) will now appear in the toolbar at the top of the page, as shown below.

3. After adding the product item(s) to your cart, click the CART button. You will now see a summary of your order, including the rewards that you will earn with the purchase > Click Go To Cart.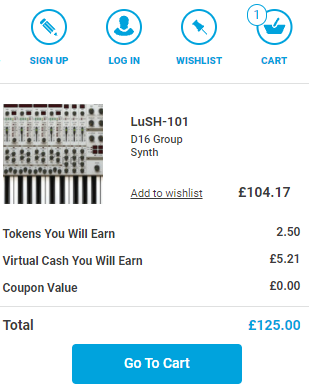 4. Here you can remove products from your cart, add them to your wishlist, choose your free gift if you are eligible for one, find products recommended for you or simply proceed to payment. If you're ready to proceed, click 🔒 Secure Checkout.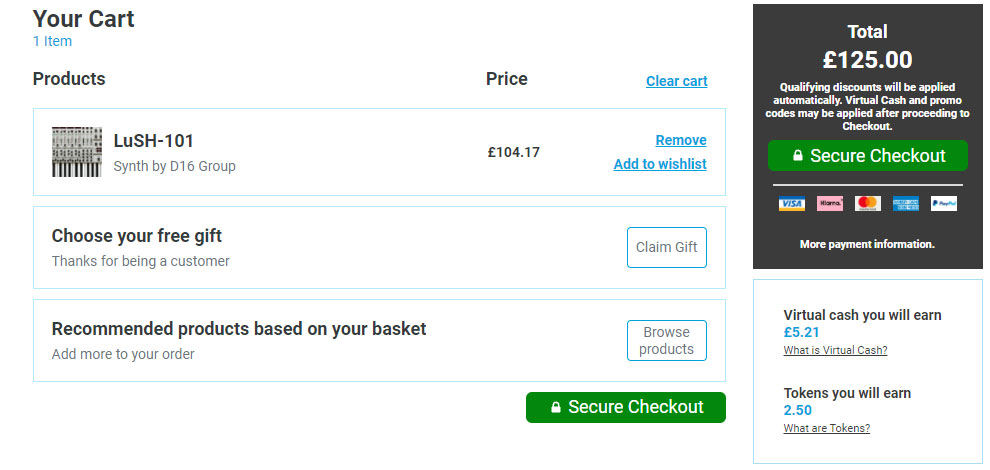 5. Enter your email address in the field below > Click Continue.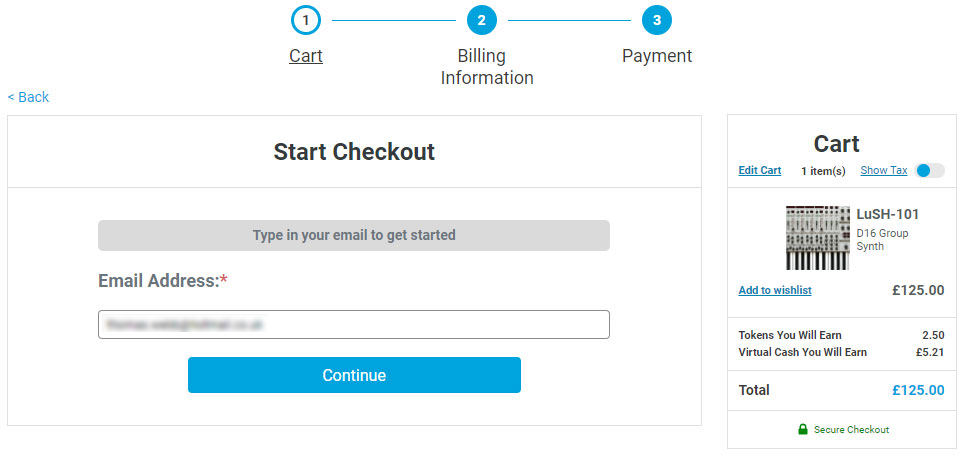 6. If you have an account with us already, log in by entering your password > Click 'I'm not a robot' and then Continue.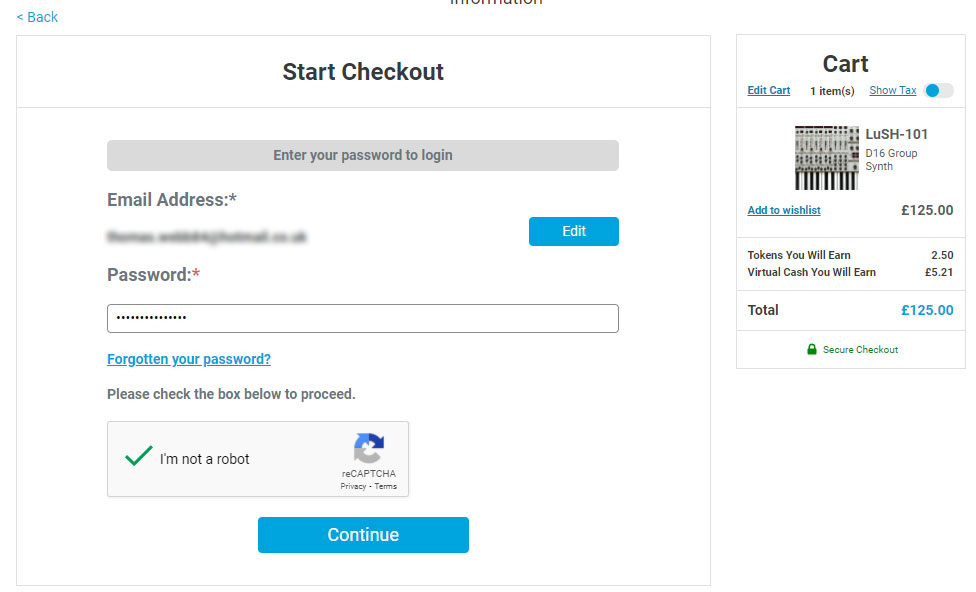 Tip: you can view a breakdown of the tax (if applicable) by clicking Show Tax:
7. If you do not have an account, one will be created for you during the checkout process. Fill in your details, select your address and then click Continue.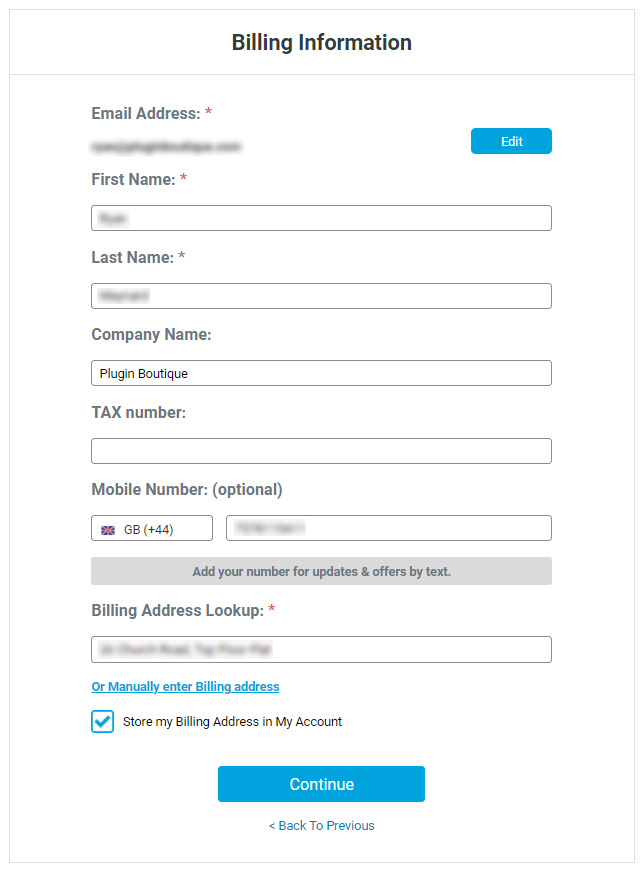 8. If you have a promo code, click the down arrow, enter your code and then click Apply.

9. Please make sure your billing information is correct.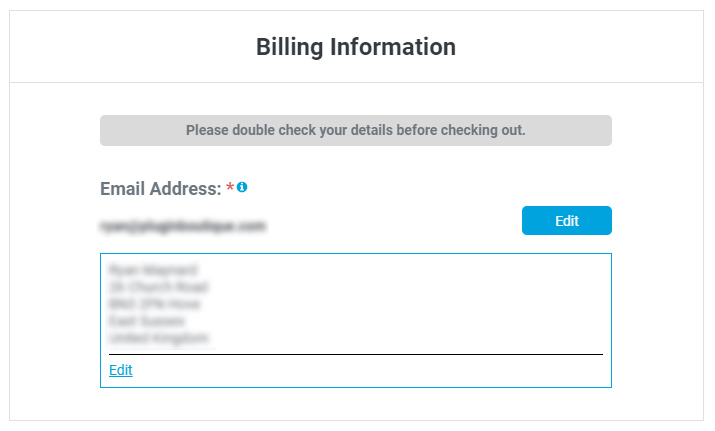 10. To be able to access your downloads and future updates, please create a password with at least 10 characters, and at least 3 of the following: uppercase, lowercase, numerical or special characters and enter it twice here > Read our Terms & Conditions and click the checkbox > Select your marketing preferences.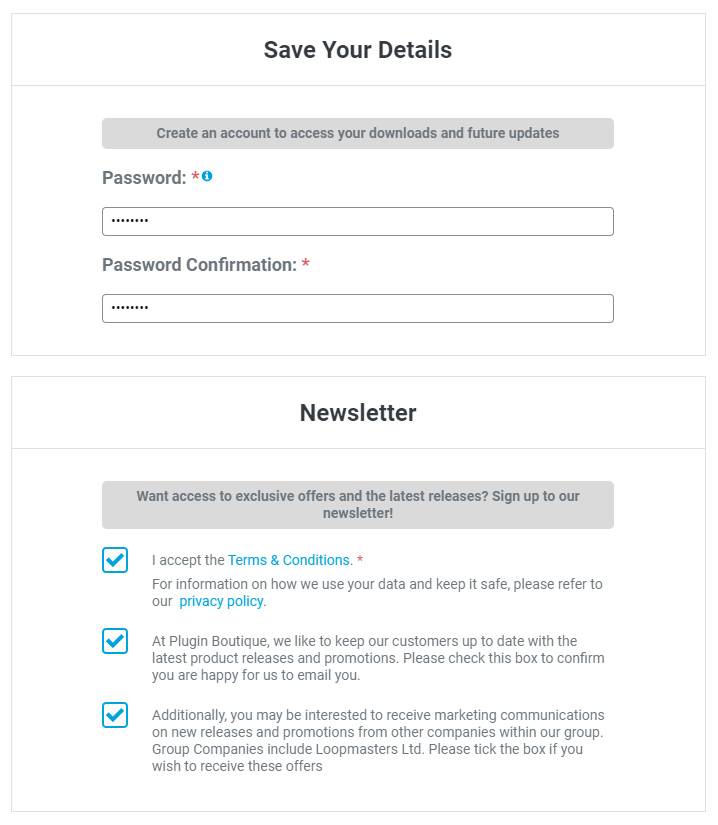 11. Now choose if you would like to pay using a card, PayPal or Klarna, before filling out any necessary details and selecting the BUY option to complete your order.
Want to Pay with Klarna?
To find more information about Klarna and if this payment option is available to you, please click our Klarna help centre article. Information on how to purchase using Klarna can also be found in this area.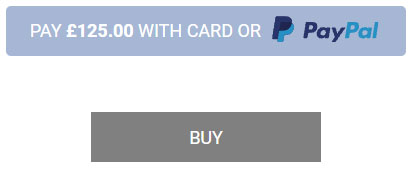 Your order has now been successfully processed and your product item(s) should be available in the My Products section of your account when logged in.
Note: If there were any issues with your details, or if you used a VPN when making the purchase, your order may have been flagged by our security protection payment system for verification. You will receive instructions via email on how to get your order verified.
UK and Applicable EU Territories (Klarna)
Klarna's Pay in 3 instalments and Pay in 30 days credit agreements are not regulated by the FCA. Use of these and any missed payments may affect your ability to obtain credit from Klarna and other lenders. 18+, UK residents only. Subject to status. T&Cs apply. https://www.klarna.com/uk/terms-and-conditions/.
US (Klarna)
*CA resident loans made or arranged pursuant to a California Financing Law license. https://www.klarna.com/us/terms-of-use/.